Apprenticeship ropeway technician (m/f/d)
Find out everything you need to know about the apprenticeship as a ropeway technician (f/m/d) here.
Hardly any other apprenticeship is more varied and more adrenaline-filled than that of a ropeway technician. Three and a half years between ropeway and electrical engineering, high-tech systems and nature. With a degree as a ropeway technician, all the lifts in the world are open to you. An industry with a future and an apprenticeship with vision.
It is completed annually by around 160 young people at the "Seilbahner-Schmiede" in Hallein, the modern provincial vocational school for metalworking professions.
"This profession requires a high degree of technical passion," says the operations manager of Hochkar Bergbahnen.
Qualities such as dexterity, flexibility, a sense of adventure and a head for heights are prerequisites for the varied training.
The training program ranges from technical service work and monitoring of the ropeway installations to ongoing customer contact.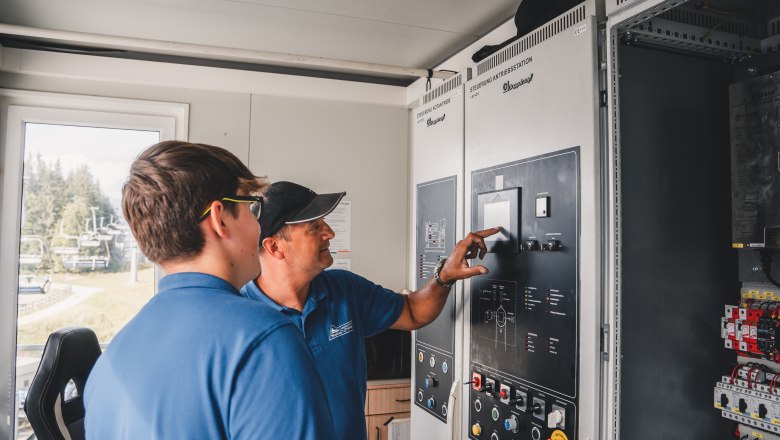 Your requirements
You are:
in good physical condition, have excellent reaction times
free from giddiness and insensitive to weather conditions
sure-footed and have good eye-hand coordination
able to work under pressure and have a manual/technical understanding
safety conscious, attentive and flexible
punctual, accurate and a team player
Your tasks as a cable car operator:
Operation, maintenance, monitoring of the cable car and surface lift systems
Supervision of the ongoing ropeway operation
Compliance with the operating regulations and control of the transport conditions
Regular inspection of the cableway installations
Carrying out maintenance and repair work
Participation in first-aid, rescue and fire drills
cooperation in the maintenance of the ski slopes
carrying out regular inspections of ropes and pulley batteries
General overhaul of the installations outside the operating season
This is what awaits you:
Apprenticeship: Cableway technician 3.5 years or
Double apprenticeship ropeway and electrical engineering Apprenticeship period: 4 years
a varied and future-proof apprenticeship
appreciative environment and a good working atmosphere
suitable work clothes for summer and winter
free use of the lift on your days off
Apprentice compensation: (KV cable cars May 2022 )
apprenticeship year € 1.050,00 gross per month
apprenticeship year € 1.225,00 gross per month
apprenticeship year € 1.400,00 gross per month
Apprenticeship year € 1.750,00 gross per month
Not sure if the profession is right for you?
Come by and work with us for a day. Our ropeway technicians Alex and Bernhard will be happy to answer your questions about the apprenticeship.
By the way, Alex was also the first apprentice ropeway technician in Lower Austria and completed his apprenticeship with us at Hochkar in 2018.